Back to case studies
Tuffy Cape Coral
Tuffy Tire and Auto Service Center Franchisee streamlines processes and improves customer experience.
Vertical:
Automotive
Industry:
Tires and servicing
Product:
VAST Retail
Applications:
VAST Commerce, OpenWebs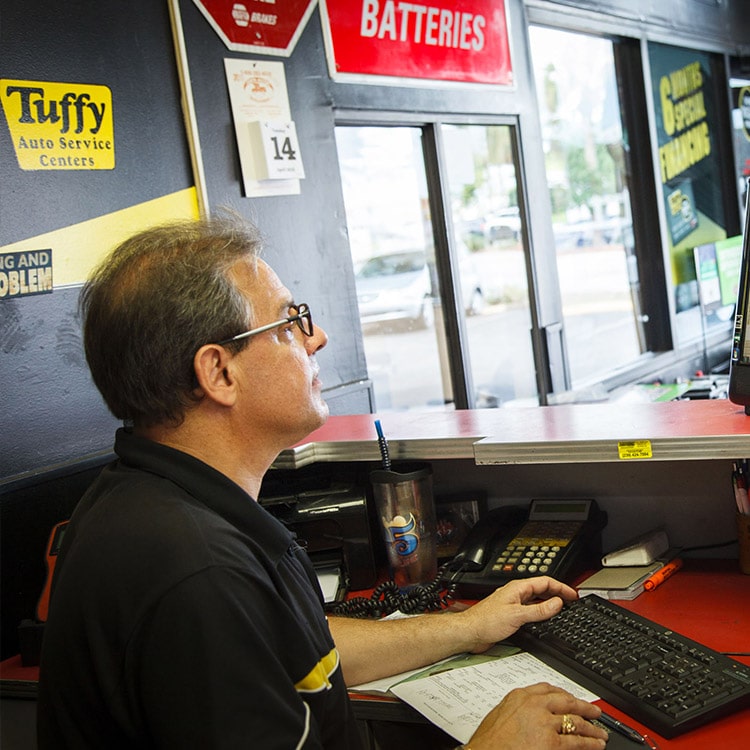 About Tuffy Cape Coral
Tuffy Tire and Auto Service Center is a family-owned tire and automotive service center located in Cape Coral, Florida. Mark and Patty Holmes have owned the business for over 20 years, providing tires and a wide range of automotive repair and maintenance services.
Challenge
For over 20 years, Tuffy Tire and Auto has been a VAST customer, regularly upgrading the software along the way to take advantage of features and capabilities with each new version of the software. Tuffy found great value in VAST vItemBroker, which automates the parts searching process so counter personnel can create estimates faster and more accurately. Owner Mark Holmes was excited to hear that VAST offers the vTire Lookup module to automate the tire search and order process similar to the vItemBroker process for parts.
Solution
Tuffy Tire and Auto uses KCS' VAST Retail, an advanced point of sale and business management system, to manage daily business operations like estimating, sales, order processing, accounting and reporting. With VAST, Tuffy has an integrated and streamlined solution that improves accuracy, turnaround time and the overall customer experience.
VAST not only decreases the time needed for the customer check-in process, but also automates the estimating process to ensure that the correct parts are selected for each specific vehicle. When a counter representative enters the license plate number, VAST fills in the car make and model, including the engine size, so parts can be ordered correctly. Customers are often unaware of the specific details of their cars, which leads to ordering incorrect parts. VAST removes the guesswork and ensures the information is correct right from the start.
With VAST, we have a proper foundation of accurate information and efficient processes to build customer estimates and service their vehicles. Without that foundation, you're stuck building customer tickets with questionable information, which is like building a house on sand. The software simplifies the process of putting the tickets together and makes sure we get everything done right the first time for better customer service and profitability.


Mark Holmes - Owner of Tuffy Tire and Auto Service Center
In the VAST back office, Mark has the ability to create and manage packages which means when a customer comes in for a particular job, it allows his service writers to know exactly which parts and what labor is required for said job.
vJobs prompts the service writer to select the required parts from his inventory or order them from his suppliers, right from within VAST. Then, allows them to add the labor right on as well. This not only makes it quick and easy, but also efficient so that no pieces are left missing.
"Human nature is to forget but vJobs doesn't allow that to happen since the materials are already built into the package. It lets you build packages anyway you want saving you time and profit in the long run."
The vTire Lookup module provides Tuffy with the ability to search for and order tires in real time over the internet from multiple suppliers. The system shows real time stock availability and pricing of all vendors on one screen and can automatically create and submit a purchase order.
We're very pleased with vTire Lookup. Automating the tire search and order process has greatly improved our efficiency and accuracy. There is no more toggling between vendors' websites to check pricing and availability. Everything is at our fingertips now.
Tuffy is also taking advantage of pre-built packages inside of VAST. For example, Mark uses the oil change package functionality. This allows his team to select a particular oil change package, which then prompts to select the correct oil filter, as well as the correct oil viscosity and amount of oil for the vehicle.
Previously, the oil grade and quantity had to be looked up elsewhere for each vehicle and then the oil type and amount were manually adjusted, as needed. Now, the system recognizes the vehicle make and model, which then allows VAST to specify the correct oil grade and quantity. This saves time and money, as many vehicles require various oil quart counts with a regular oil change. Now through VAST, the technician knows the grade and quantity and the VAST system will allow you the option to charge additional for extra quarts of oil that may be required or keep it in the same package price that was selected.
Benefits
With each VAST upgrade over the years, Tuffy Tire and Auto has gained significant ROI from the new features and capabilities. Estimating tools provide a "click and go" experience so counter staff can create specific parts and labor estimates in under a minute with the correct margins and consistent pricing applied to every customer. Tire sales are optimized with VAST suggesting the best tire options based on the customer's driving habits and performance requirements. Tire and parts searching and ordering is automated and integrated with OpenWebs so Tuffy can view availability and place orders with suppliers in a matter of seconds.
Eliminating time-consuming manual searches with real-time, automated estimating and ordering
Improving part order accuracy, customers get the right parts & there are less supplier returns
Improving productivity with streamlined processes
Enhancing the customer experience with faster, more personal and more accurate service
Increasing profitability with accurate profit margins, pricing and add-on sales opportunities
A technology buff, Mark Holmes is very in-tune with the processes in his organization and which areas would benefit from automation. "We've been a VAST customer for over two decades and I'm pleased with the innovative culture at KCS," said Holmes. "As our needs have changed, their capabilities have evolved, as well. KCS seems to stay one step ahead of our needs."