Back to case studies
Precision Franchising
Precision Franchising uses VAST to increase tire sales and automate processes.
Vertical:
Automotive
Industry:
Tires and servicing
Product:
VAST Retail
Application:
VAST Commerce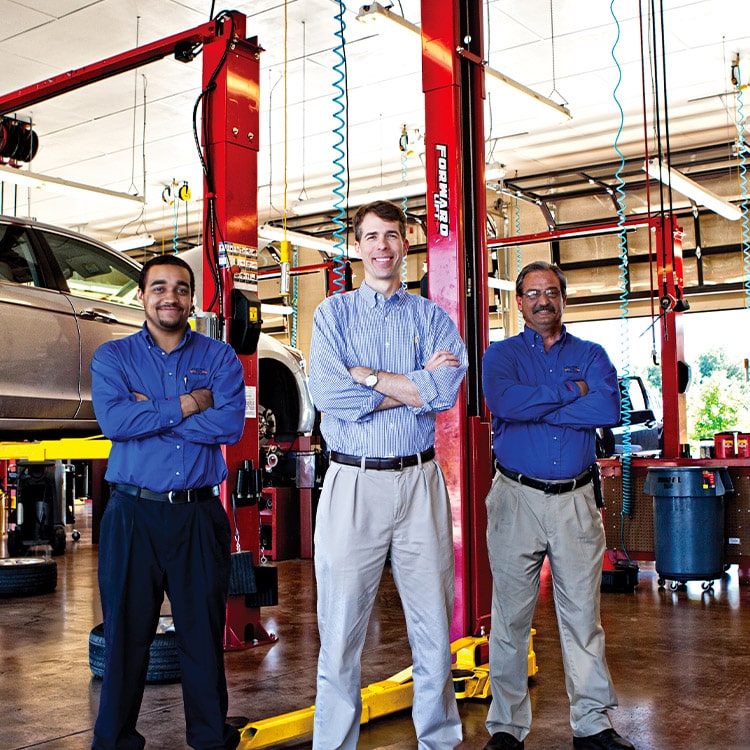 About Precision Franchising
Precision Franchising operates 31 Precision Tune Auto Centers in North Carolina and employs over 200 people. Precision offers a one-stop-shop specializing in diagnostics, factory scheduled maintenance and car repair services. The North Carolina group started out 34 years ago as strictly a tune-up operation, and has since evolved to become a full-service automotive center.
Challenge
With such a large network of stores, Precision has demanding software requirements for both individual store operational efficiencies and corporate management. At the stores, building estimates was manual and inconsistent. Personnel would build estimates by calling multiple parts suppliers, mark-up parts with a calculator, and often handwrite the recommended jobs and customer price.
Later, the information would be entered into the point of sale system. This process wasted valuable time and opened the door for errors. On the corporate front, there was an overriding lack of efficiency and consistency when managing data across multiple locations. Each store operated as a unique system, without a corporate server controlling each location's service packages, pricing and inventory. This decentralization made it very difficult for corporate management to get a clear analysis of performance and realize the true potential for the business.
In their business software search, Precision Auto had three main goals:
Build estimates more easily and consistently across the states
Streamline the parts ordering process
Gain easy access to a single source for reliable data and reporting
Solution
Precision reviewed several automotive business management software options, including the purchase and one-year trial of another product, and ultimately chose KCS' VAST Retail point of sale and business management solution. Precision installed the first system in February 2012 and rolled the solution out to all 31 stores in six months. The last store was up and running on August 1, 2012. Because the system is Windows-based with an easy-to-use format, personnel adapted and became proficient very quickly.
Precision uses the VAST Windows-based solution to manage day-to-day business operations, including estimating, sales, order processing and extensive business reporting. VAST Retail includes an integrated parts catalog and labor guide to accelerate the estimating process while ensuring all jobs are profitable. Additionally, Precision personnel can quickly access parts images and vehicle specifications online.
With all of the vehicle information easily accessible, VAST enables our staff to spend more time with customers, recommend the right services and deliver higher quality work. Several steps where we once used calculators, phones, books and specific web tools are now all integrated into one screen, dramatically increasing efficiency in the estimating process. Our team estimates repair work more accurately and completely, significantly reducing the instances where an upfront oversight leads to an unprofitable job.


Jason Allbert - Vice President, Precision Franchising
As an example, many of Precision's customers come in for oil changes. With VAST, the sales representative at the counter enters customer's name or license number and immediately knows the car's specific needs, like oil viscosity, filter type and amount of oil necessary. Previously, a customer received their estimate at the counter before the car went back to the technician - who might then discover the need for more service work. The process resulted in either uncomfortable conversations about additional charges with the customer, or absorbing the cost of the change and cutting into profitability.
The VAST module, vItemBroker, is especially useful for Precision. This module enables Precision sales representatives to see real-time stock availability and pricing from multiple suppliers – all on a single screen. Users can select the parts they require, automatically create and submit a purchase order, then add these parts to a work order in one easy step. Allbert uses the VAST module, vItembroker, that enables sales representatives to see real-time stock availability and pricing from multiple suppliers – all on a single screen. Users can then select the parts they require, automatically create and submit a purchase order, and add these parts to a work order – all in one easy step.
Additionally, VAST automatically applies margins that are previously set by the business owner so there is no more worrying about whether a sales representative is calculating correctly. The decision process is automated, so the correct parts are ordered at the best price and with the correct margins applied.
Benefits
With VAST, Precision has streamlined processes, gained better control of inventory and incorporated more automation in pricing. With 31 stores, efficiency gains are significant. Building estimates is fast, accurate and consistent across the stores, and the parts ordering process is automated and more profitable.
Management has easy access to reliable data, and reporting is detailed and accurate, identifying areas for improvement and added profitability.
We are extremely happy with the benefits we've received from VAST. We needed to take our company to the next level in terms of maturing how we managed our business. We're really pleased with the software and with the company behind the product.


Jason Allbert - Vice President, Precision Franchising
Streamline inventory management
Prior to installing VAST, all 31 stores had inconsistent part numbering systems, with different descriptions and item numbers. Now Precision has access to real-time inventory information and handles orders centrally from the corporate office for all the stores with one quick exercise, without having to login to 31 separate locations.
Increase tire sales
VAST helps with all aspects of tire management and sales, improving the quotation and estimating process and providing a clear view of inventory and sales data. Previously, Precision could have the same tire at multiple locations and not even know it because each store had its own part number. With VAST there is consistency – each store has the same part number, description and tire size formatting, plus the descriptions on the invoice appear complete and professional.
Accurate, detailed reporting
Previously, Precision would hand-key reports every Monday, and the final reports took all morning to prepare. Now the reporting process is automated, data is accurate and available in real-time. This alone saves the controller 15,000 keystrokes a week because he no longer has to hand-key in sales data for accounting entries. The manual tasks are gone and the entire process is much smoother. With standard report templates and endless customizable options, Precision can drill down to many levels to resolve issues – whether it is a pricing discrepancy, unusual margins, or suspicious inventory change, the data is available to find the answer.
Increase Profitability
Pricing is consistent and correct because all the facts are gathered prior to the technician getting the vehicle. Employees are using the pricing matrix more consistently, and profitability on parts has increased since personnel can shop vendors more efficiently. The stores are able to identify the best part at the best price and apply the correct markup.
Improve Customer Service
By automating manual processes, employees have more time to develop a relationship with customers instead of spending time on the phone pricing and locating a part.