Back to case studies
Hawaii Tire / Lex Brodie's
VAST helps Lex Brodie's Tire Stores grow revenue and create better customer relationships.
Vertical:
Automotive
Industry:
Tires and servicing
Product:
VAST Retail
Applications:
VAST Commerce, OpenWebs, StockTake
Integration:
CarSide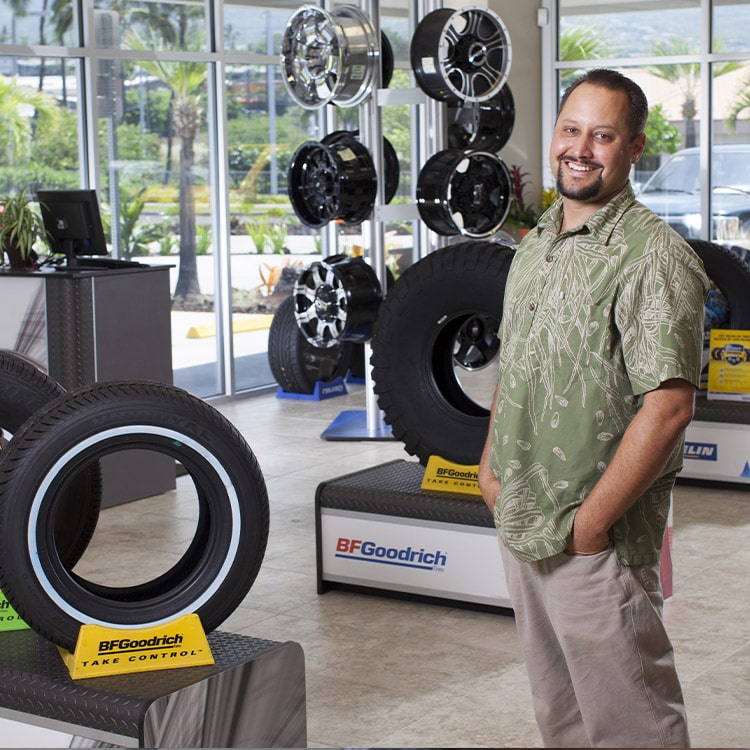 About Hawaii Tire Company
Hawaii Tire Company owns four Lex Brodie's Tire Stores on the Big Island of Hawaii, making it the largest tire and automotive service chain on the island. The company sells top quality brand name tires and also has an extensive service department specializing in brakes, tire balancing, tire repair and more. Revenue among the four stores is split 50/50 – with about 50% from tire sales and 50% from services and repairs. Chuck Porter bought the operation in 2003 and later brought his son, Josh Porter, into the business to improve efficiency and profitability. Lex Brodie's is an iconic name in Hawaii, recognized for high levels of customer service and a clean and comfortable waiting area, and that tradition continues today.
Challenge
Hawaii Tire was using a dated point of sale system that wasn't able to manage all the areas of the business. The system was designed to manage tire sales and accounting, but as Hawaii Tire evolved to offer additional services and repairs, the system wasn't capable of managing those areas. Estimating was manual and problematic, and employees were stuck redoing work regularly. Stability was also an issue due to connectivity issues in Hawaii. Hawaii Tire needed a backup plan to compensate for intermittent Internet connectivity and power outages. Plus, the computer system looked dated in the customer showroom with clunky monitors, old keyboards and green screens, which didn't fit the modern image Hawaii Tire wanted to portray.
Solution
Hawaii Tire wanted a point of sale and management system that could manage all of its business offerings, and offer stability and flexibility. Josh Porter had been with the company 7 years and knew what he liked and what he didn't like about the existing system and approached the software search with a solid list of requirements. Hawaii Tire considered six vendors and chose KCS because of the product's stability and its proven, extensive features, including some that the competitors didn't have, such as automated parts ordering.
Hawaii Tire implemented VAST Retail point of sale and management system at all four stores in 2011. The Windows-based solution manages day-to-day business operations, including estimating, sales, order processing and extensive business reporting. VAST Retail includes an integrated parts catalog and labor guide to accelerate the estimating process while ensuring all jobs are profitable. Parts images and vehicle specifications can be viewed online.
With VAST, Hawaii Tire is now able to instantly view tires and parts pricing and availability from different suppliers and place orders for those parts and tires directly. Counter staff can now create specific parts and labor estimates in under a minute, with the system suggesting up-sell opportunities to help increase sales. The VAST system automatically places the order with the supplier and creates a purchase order within the Hawaii Tire system.
The VAST system gives us great efficiency and visibility. The Work Order Screen keeps track of everything, and estimating is viewable on one screen. We can view multiple location inventories at one time, and when a sales manager creates an estimate, that estimate can be viewed by anyone else for consistency and reliability in pricing and deliverables.


Josh Porter - Managing Director, Hawaii Tire Company
Hawaii Tire has more than 100 standardized and customizable reports, tables and graphs available within the VAST system, covering everything from technician productivity, sales performance and gross margin, to coupon tracking, sales tax, inventory and more. These in-depth reports help Hawaii Tire identify areas of opportunity for sales and service personnel, so they can run spiffs or promotions to increase sales and profitability in a specific area. The reports also help track productivity of mechanics and shop personnel.
Benefits
Since implementing VAST Retail, Hawaii Tire has increased margins and revenues, streamlined productivity and improved the customer service experience. The productivity improvement and time savings Hawaii Tire gains from VAST are a great benefit to the company. The automated system saves employees from manually building estimates, determining what parts need to be included, calling multiple suppliers for pricing and availability, and calculating margins individually. Estimating is automated and efficient, ensuring that all parts needed for the project are included in the estimate, obtained from the supplier for the best price and that proper margins have been applied. Hawaii Tire can check the parts inventory of suppliers down to the VIN and barcode level, which has decreased returns substantially because they are ordering the right part the first time.
The Windows-based VAST system is easy to learn and use, and employees picked up on it quickly with the point-and-click visual system.
The VAST system has really helped us to grow revenue and create a more intimate relationship with our customers. We can keep track of their preferences, past work and driving habits and follow up with timely offers when an oil change, tire rotation or other scheduled maintenance is approaching. We can send out coupons a few months before they need tires so they return to us and are confident they are getting the best price and service.


Josh Porter - Managing Director, Hawaii Tire Company
Benefits Hawaii Tire has achieved from VAST Retail include:
Payroll processing for mechanics is over 50% faster as the system tracks 'flag hours' for production technicians.
Repair invoicing is 50% faster since duplicate work of entering estimates into the point of sales system is eliminated.
Parts returns due to ordering the wrong part for a mechanical repair is down 60% because the system forces the capture of VIN's at customer check-in for 'right the first time' parts ordering.
Follow up sales on return visits are up 80% because the system notifies personnel that service was recommended and previously declined.
Customer follow up and retention programs through mail and email reminders is now over 90% hands off thanks to automation.
Tire quoting, which includes all fees, such as mount, balance, and disposal is 80% faster.