Back to case studies
Event Wave Productions
Last month we visited Event Wave Productions based in San Diego, CA who have been using Current RMS for just shy of a year now. Event Wave Productions provide live sound for corporate events and were on the look out for a rental management system for several years.
Vertical:
Rental
Industry:
Audio equipment rental
Product:
Current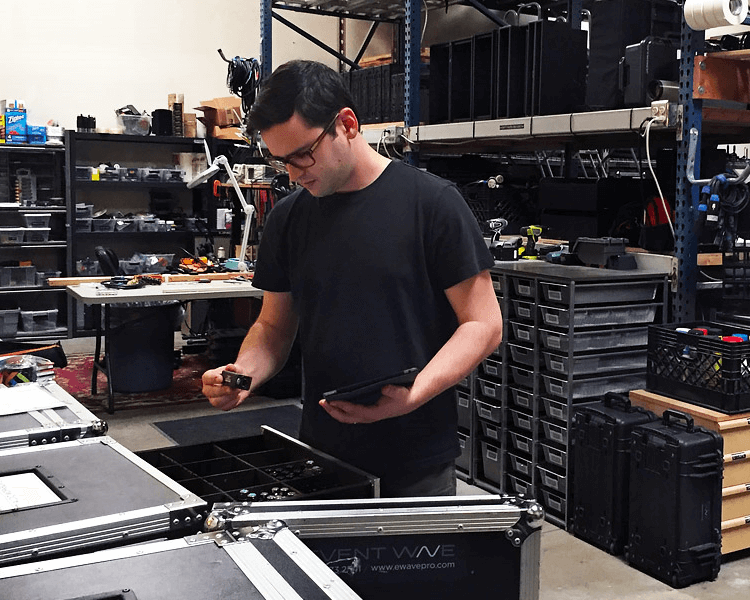 Customer Spotlight: Event Wave Productions
After a 17 year stint at a leading audiovisual staging company in San Diego, CA, Peter Carpentier co founded Sound Surgeon Studios with Geof Gibson in 1997. In addition to providing recording studio services, Sound Surgeon satisfied the niche market of providing specialty audio items for corporate events, including digital mixers, DSP matrices, and cutting-edge wireless systems.
In 2010 Peter and his partners (now including Ross Goldman and Shane Smith) launched a full-service, live sound division called Event Wave Productions. Their stated mission is to provide high quality, state of the art equipment and expertise to the AV rental and production industry.
Last month we had the honor of visiting Event Wave Productions at their offices/warehouse in San Diego. Event Wave has been using Current RMS for just shy of a year now but before this they were on the look out for a rental management system for several years.
Before Current, we used several different pieces of software, Google Calendar, Spreadsheets and QuickBooks. We had to look for things in multiple places - it wasn't streamlined at all.


Ross Goldman, Operations Director and Owner.
Ross frequently read up on new products being discussed on popular AV and Sound Forums, which is when he came across Current RMS. Within just a few hours, Ross was up and running with his free 30 day trial, entering kit and testing out the functionality.
After an online demo with one of the Current RMS Product Specialists and maximizing the trial period by importing and entering all their kit, creating draft quotes and getting the team familiarized with the product, Event Wave Productions were live with Current and haven't looked back since.
We wanted to find a solution where we could all be up to date on the most current information, find what we needed quickly and not have to call each other. We wanted a central place of truth, where we knew what equipment was available, who was doing what and when, how much jobs were being quoted for and this really brought everything together, into one place, so that anyone from our company could access that information.


Ross Goldman
Since the launch of Current RMS (just 20 months ago) over 1,300 users, across 650+ cities worldwide are now on-board, and the geographical spread is rapidly growing each day. We provide global support, listening to feedback and offering training to rental businesses from America right across to South Africa and New Zealand, it doesn't matter where in the world you are! That being said, it was important for us to film our second testimonial video with a rental company across the pond. One which had been using the product for some time, actively posting ideas and placing votes on the Wishlist and one that was experiencing signification growth - which is when we contacted Event Wave Productions.
We arrived at Event Wave Productions in the morning and started off the day with a tour of their impressive, well kept warehouse, studio rooms and offices. It was fantastic to see Current on all different devices around the building and see their inventory stacked up, ready to go out on upcoming jobs, viewable off the Job Planner.
After the tour, we settled down with coffees and doughnuts to have a chat with Ross and Shane Smith (Sales Director and Owner) about the history of Event Wave Productions and the kind of projects and events they are involved in. This is when Shane filled us in on what finally pushed them to commit to a rental management solution:
The sales process was based in Excel, which worked pretty well until I made a serious copy and paste summing error, which ended up being very expensive. After that, Ross began integrating Current. In a few short months we transformed from a company that used to wing it with Excel to a company that knows exactly what we're doing and what gear we're using.


Shane Smith, Sales Director and Owner
Since using Current RMS, Event Wave Productions have reported a 60% increase in growth and are now able to take on simultaneous projects and larger events with confidence, knowing that all the right gear is available and going out to the right events, relying on Current to provide this vital information.
In the afternoon, shortly after finishing some tasty fish tacos, we were filming in the warehouse with Ross and Gustavo Mena, Audio Engineer at Event Wave Productions. We were shown around their fantastic warehouse, looking at all the impressive sound gear, cable trunks with their Container Packing Sheets (customized through Current), the damaged items area which they now call the 'quarantine corner' and observed them prepping for an upcoming job, getting the kit onto the trucks. This is when we got chatting about new updates within Current and the Wishlist:
I always get really excited when I see that Current has been updated with new features, there's always something great to try and usually you don't have to even read the documentation, you can just start using the new features straight away. One of the best updates to Current since we've started using it is the Services Module, now we can keep track of our vehicles as well as our staff and freelancers, so it's easy to look from a big picture to see who's assigned to what shows and maker sure the right people are matched up with the right clients.


Shane Smith
Ross and the Event Wave Productions Team are also active on the Customer Wishlist – a place to request for new features to be added to Current RMS, open for everyone to view, whether you are user or not. Ross mentioned that he loves going on there to see what other, like minded rental businesses are interested in and add their two cents where he see valid.
It was 18:00 when we started to pack up the filming equipment and say our goodbyes to the team at Event Wave Productions. As a result from our day at Event Wave, we are now able to share with you this great testimonial video, filmed by videographer Jake Tison and edited by Fat free Media - a big thanks to you all.
Lastly, we would like to say a huge thank you to Ross, Shane, Gustavo, and the rest of the Event Wave Productions Team for their time spent in both helping us set this up and the time spent with us on the day, a busy time for you so we really do appreciate - this was most certainly a day to remember.