Back to case studies
Eastern Warehouse Distributors
Eastern talks about their success through the integration of Autopart and Autocat.
Vertical:
Automotive
Industry:
Automotive aftermarket
Product:
Autopart
Applications:
Autocat, Warehouse Management Software (WMS), OpenWebs
Third-Party Integration:
Phocas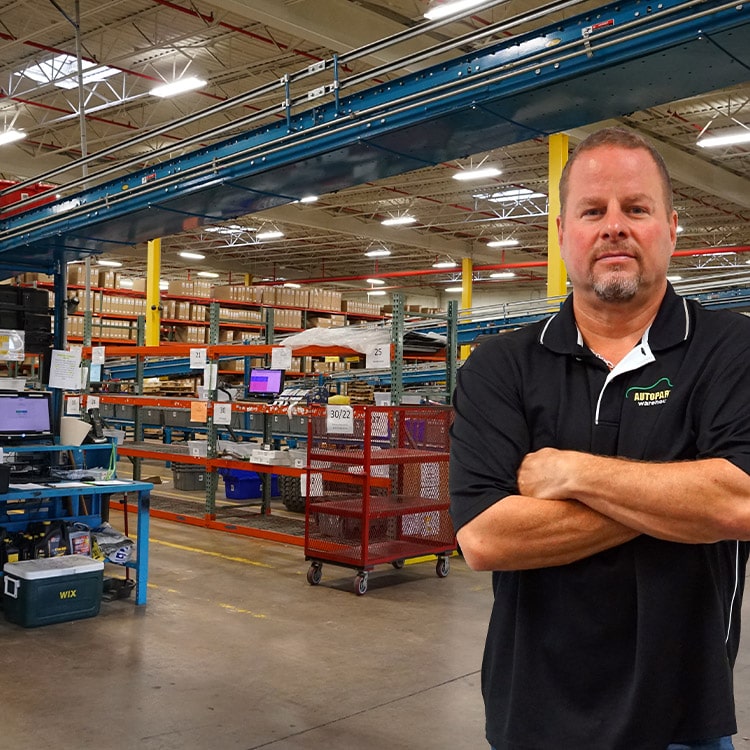 About Eastern Warehouse Distributors
Established in 1989, Eastern Warehouse Distributors (AutoParts Warehouse) is a locally owned and operated wholesale automotive parts distributor, headquartered in Langhorne, PA. They take pride in their selection of new and rebuilt parts and their numerous warehouse locations. Their more than 450 GPS-dispatched delivery vehicles allow them to provide quick delivery service throughout Eastern Pennsylvania and New Jersey. With multiple warehouses in the area, they are well stocked with the quality parts their customers have come to rely on. Eastern Warehouse Distributors (AutoParts Warehouse) is also an active member of the Aftermarket Auto Parts Alliance.
In 2011, Eastern Warehouse Distributors wanted to position themselves for a period of aggressive business growth. They realized that they needed to update their software infrastructure to prepare them for the future. Their current platform was very strong, flexible and had allowed them to be successful in years past. However; it was based on older technology and they knew that the limitations would become more and more difficult as they grew and evolved the business. They needed to make sure that they had the right technology in place to support their growth and could adapt to changes in their future business needs.
They evaluated various industry specific business management solutions, with the primary goal of finding a solution on a modern platform that would be flexible enough to grow with the company and integrate well with other solutions.
Making the change to KCS solutions was a good move for us. We have experienced a variety of improvements and efficiencies thanks to the hands-on approach KCS takes to their projects.


John Myers – VP of Operational Integrations at Eastern Warehouse Distributors
Solution
After a thorough investigation, Eastern selected Autopart by KCS. Autopart provided the strength and adaptability they were looking for as well as ease of use, reliability and dependability.
Autopart is a Microsoft Windows based system built on Microsoft SQL, a leading database solution developed and supported by the largest software company in the world. Unlike systems that have been "converted" from older technology, Autopart was built from the ground-up with current technology, making it more flexible than systems that evolved from "green screen" origins. It is a versatile business management solution designed specifically for the automotive aftermarket and seamlessly integrates all sales, stock management, accounting and reporting processes in one easy-to-use package.
By 2016, Eastern had fully implemented the Autopart solution in addition to the Warehouse Management Software (WMS) and OpenWebs (e-commerce) integration from KCS into 36 locations with over 200 users.
Out of the top automotive business management solutions on the market today, Autopart is simply the best.
They also use Autopart to manage customer inventory, complex pricing models, and automated sales and purchase order processing. They connect to My Place for Parts (MPFP) for business-to-business e-commerce and use an auto document creation for automated recurring monthly billing of Customer Service Centers. Eastern is able to easily run customized, automated reports due to the integration of BizNet and Autopart.
The till system has totally streamlined our cash processes. With real-time "cash status" we reduced the amount of unpaid cash invoices by 70% and were able to repurpose 3 employees whose duties were no longer needed. With the flexibility of the various statement processes and the automated recurring invoice and credit process we have saved much time and reduced the cost significantly.
The integrated WMS solution provides Eastern with features like receiving, picking, packing, inventory counting and performance reporting. Using WMS in conjunction with Autopart means that everything in the system is in real-time and there are no background processes transmitting data to or from another third-party solution. The system is also used to scan new returns back to the warehouse as part of the stock levelling routines; as well as scanning cores and defects in the centralized returns process. This keeps everything aligned at all times across all their locations, including their 290,000 sq. ft. state-of-the-art distribution center.
Implementing KCS's Warehouse Management Software (WMS), has allowed us to continue to improve our inventory accuracy and our ability to track the flow of goods through our warehouses
OpenWebs integration provides Eastern with a fast and reliable link for their customers to look up inventory availability and pricing. Most Eastern customers use the Alliance My Place for Parts website to do their lookups, and the direct link from MPFP to OpenWebs and then to Autopart ensures that parts lookups are quick and accurate. Orders placed on MPFP stream seamlessly through OpenWebs to Autopart and are ready to be picked within seconds. OpenWebs also allows direct connections from customers using compatible Shop Management Systems, such as KCS's VAST system, to look up parts within their work orders and to place electronic orders directly from their systems to Eastern.
In 2018, Eastern worked alongside KCS to enhance their web-driven parts catalog, Autocat. "Until this time, we were utilizing a popular industry leading catalog solution but wanted the flexibility and look-up features to improve our ability to answer more calls and sell more parts." said John Myers.
We analyzed the look-up results in Autocat and found the data to be up to date and accurate. This gave us confidence that we would see increased sales opportunities and decreased return rates.
Autocat provides Eastern with direct access to the latest updates from a wide variety of industry suppliers; as well as the ability to streamline what is displayed on screen by eliminating part types that they do not stock. This allows for cleaner data displays, yet still provides access to all manufacturers' part numbers when needed for special ordering.
Manufacturers and suppliers can submit data through Autocat using both ACES and PIES delivery specifications, which is then verified and standardized before being published to the cloud. Counter staff access the data via the internet from Autocat's user-friendly desktop interface. Users can intuitively select year make and model information or use the VIN lookup to identify and sell the parts the customer is looking for.
Autocat's predictive text search feature makes it fast and easy for users to look up parts by name or category. The Interchange and Buyers Guide provide additional tools for countermen to find the correct parts and service their customers. Personalized notes and customizable product categories allow the catalog to be tailored to individual requirements.
Autocat takes cataloging to another level, providing updates at web speed without monthly maintenance. It offers consistent, up-to-date results to make the sale.
Benefits
Since implementing Autopart, Eastern has seen a significant benefits from several new features and capabilities included within Autopart, WMS and Autocat. Using Autopart, Eastern has been able to recognize improved operational efficiency, improved data accessibility and management, increased profitability and enhanced customer service.
The WMS solution has allowed for faster and more accurate processing of returns, both at the branch locations and at the warehouse, where the returns are received in using WMS. The ease of printing labels directly from the WMS device has also helped ensure that all products have a valid barcode label to further increase accuracy. At their distribution center alone, Eastern picks and packs up to 20,000 lines per day using WMS, including a large number of high priority orders for their customers which are picked and shipped within just a few minutes of the order being placed.
Since implementing WMS back in 2016, we have seen the product mature nicely and are pleased that it does everything we need it to do quickly and accurately.
Eastern's acceptance of the product and willingness to use it during the transitional period made Autocat the obvious catalog choice. Continued enhancements and development will ensure that it remains just that…the right choice. Currently, Eastern is using Autocat in all 36 locations and average about 9000 lookups per day.
Another benefit of Autopart that Eastern utilize is the Automated Document Creation feature. This allows them to invoice or credit a specified group of customers on a timed basis, i.e. monthly, for recurring fees which makes the process extremely efficient. Once set up, the utility allows them to create multiple invoices with a few keystrokes instead of a user having to create each invoice separately.