Back to case studies
Arnold Motor Supply
Arnold Motor Supply/Merrill Co. benefits from improved inventory management through Autopart, Autocat and WMS.
Vertical:
Automotive
Industry:
Warehouse distributors
Product:
Autopart
Applications:
Warehouse Management System (WMS), Autocat
Third-Party Integrations:
GCommerce VIC, Phocas Business Intelligence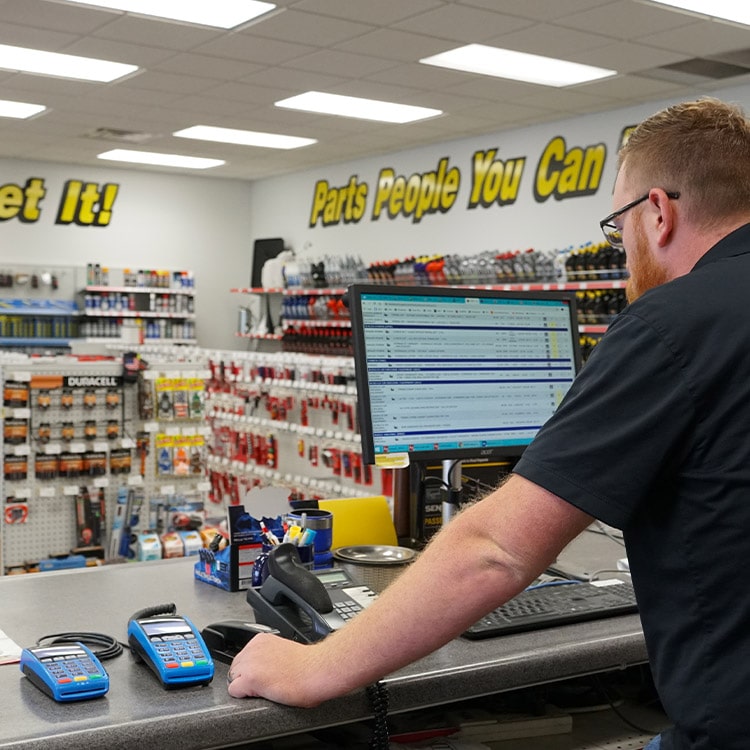 About Arnold Motor Supply
E.P. Arnold started Arnold Motor Supply in 1927 with a Chevrolet Roadster and $65 worth of auto parts. From the beginning, Mr. Arnold believed people would work harder as owners than employees. With this belief he built the business into ten stores with ten partners over the next twenty years. In 1960, Mr. Arnold built an auto parts warehouse in Spencer, IA and named it after his son, Merrill. Today, Arnold Motor Supply is still a partnership as it was from the beginning, consisting of five divisions, two distribution centers, and sixty-six branches.
The Merrill Company distribution center in Spencer has continued to grow in size from a mere 27,000 square feet to over 100,000 square feet today. This is one of the very few warehouse operations that have inside loading docks which allows for the comfort of their warehouse team members to work in inclement weather. Their delivery fleet travels over one million miles a year delivering parts to customers overnight.
Challenge
For thirty years, Arnold Motor Supply/The Merrill Company used a heavily customized point of sale solution with limited inventory management capability and a third-party accounting package that was not directly integrated.
The solution worked well as it was flexible and built to accommodate good business practices, but over time the technology became dated. Having full access to the source code was an advantage; however, keeping up with growing needs and trying to build on an older technology base was getting more and more challenging. The increasing risk of growing a business on legacy technology was a concern that Arnold Motor Supply needed to address.
To continue a pattern of sustained growth, Arnold Motor Supply knew that they would need to change their business system to a more modern solution. They needed a platform that could scale easily with the business and offer more integration options.
In 2015, Arnold Motor Supply started the process of evaluating new business management solutions and eventually narrowed their options down to Autopart (from MAM Software) and one other industry solution. Their goal was to find the right technology to support their growth and the ability to adapt to changes in their future business needs.
Autopart is a single solution for our store operations, inventory management, warehouse management and accounting needs. The system is flexible enough to accommodate our requirements, even ones we didn't recognize prior to implementation.


Eric Johnson, Vice President - Arnold Motor Supply/The Merrill Co.
Solution
After careful evaluation of each software, Arnold Motor Supply selected Autopart, the SQL based business management solution from MAM Software. The store operators, inventory management personnel, finance team and counter professionals preferred the Autopart solution due to its ease of use, integration capabilities, and rich features.
The Accounting department saw the possibility of having a fully native, real-time ledgers package within their business management solution, and the distribution center was excited by the possibilities of operating a seamless Warehouse Management Solution (WMS) in lieu of an integration to a third-party solution. In order to meet the growing need, Autopart provided each department with the strength and adaptability they were looking for as well as ease of use and dependability.
Beyond the business reasons behind the decision, Arnold Motor Supply also valued the technology that drives the business functionality. Autopart being built on Microsoft SQL, would give Arnold Motor Supply a level of access to data not found on systems built on legacy database solutions.
By July 2018, Arnold Motor Supply had fully implemented the Autopart solution into 72 profit centers with over 400 active users.
Arnold Motor Supply uses Autopart to manage day-to-day business operations, including order entry, reporting, accounts payable, accounts receivable, general ledgers, purchasing, and inventory management. They have access to their information with customizable reports and integration with Phocas, a robust business intelligence (BI) solution.
Also, Arnold Motor Supply can provide access for their key people to retrieve information through Microsoft Excel and SQL views, enabling them to see and drill into data as desired. Store managers have access to daily metrics through Arnold Motor Supply's company portal and purchasing managers can drill into the data to assist them in their purchase and stocking decisions.
The integrated WMS solution provides Arnold Motor Supply with features like receiving, picking, packing, inventory counting and performance reporting. Using WMS in conjunction with Autopart means that everything in the system is in real-time. They now have better trackability of where they are sourcing product which simplifies the process of returns and helps buyers make more informed purchasing decisions.
We're able to empower users to access data that they used to have to request from the IT Department. Whether a standard report, a custom query, or a data feed to our intranet, we're making strides toward ensuring our people have the information they need to perform their jobs well.
Being tightly integrated with the core business system has allowed Arnold Motor Supply to see improvements in picking accuracy and gives them visibility to metrics that allows them to improve their processes within their distribution centers.
"We have better visibility to the inventory management logic, which helps us have a better handle on what products are stocked at various branches as we work toward improving inventory turn."
Following implementation, Arnold Motor Supply converted their point-of-sale eCatalog to Autocat, the newest eCatalog solution in the automotive aftermarket. Their goal was to get faster catalog data updates for their parts counter which means access to the newest part releases and up-to-date manufacturer corrections on errors and omissions.
Autocat provides Arnold Motor Supply with the most up-to-date catalog data available, ensuring that their counter professionals are not losing sales or wasting significant time searching manufacturer sites for information. Also, because the catalog is configurable, Arnold Motor Supply can modify the setup of categories and groups to ensure maximum productivity in the look-up process.
Manufacturers and suppliers can submit data through Autocat using both ACES and PIES delivery specifications, which is then verified and standardized before being published to the cloud. Counter staff access the data via the internet from Autocat's user-friendly desktop interface. Users can intuitively select year make and model information or use the VIN lookup to identify and sell the parts the customer is looking for.
The Interchange and Buyers Guide provide additional tools for counter professionals to find the correct parts and service their customers. Personalized notes and customizable product categories allow the catalog to be tailored to individual requirements.
"Autocat provides us with access to the latest data updates from manufacturers and includes features that help us to streamline our point of sale process."
Benefits
Using Autopart, Arnold Motor Supply has better access to system data and business metrics. This allows them to measure their performance and identify challenges and opportunities faster than before. The tighter integration with accounting gives them better drill down capability and increased efficiency. And with stronger inventory management and warehouse management, they are improving inventory turns and have seen an increase in picking accuracy.
Autopart and WMS have taken our inventory management capability to a higher level. We now benefit from a solid, transparent logic and tight integration between store operations, inventory management, warehouse management and accounting.
Arnold Motor Supply is well equipped to sell parts quickly and accurately with Autocat eCatalog integrated in point-of-sale. The efficient flow of the look-up and the quality of the data ensure that there are minimal lost sales and less time wasted finding the right part.
"Changing software is a massive and difficult task for any organization. MAM Software has a strong team of competent support and training staff to make that process as smooth as possible. Their attention to detail and flexibility working with us enabled our conversion to succeed and made a challenging implementation possible. While we still have work to do one year in, our decision to select MAM Software has been a good one."