Increase revenue from tire, alignment and underbody work
KCS and Squarerigger have partnered to bring you fast, mobile, highly accurate tire inspections with no paper forms. Data is automatically uploaded and displayed directly in your VAST system.
The 'Opti-Tread® Tire Probe' is a one-of-a-kind wireless Bluetooth device that fits in your shirt pocket and requires no charging. Opti-Tread has a proven history of increasing revenue and enhancing customer loyalty.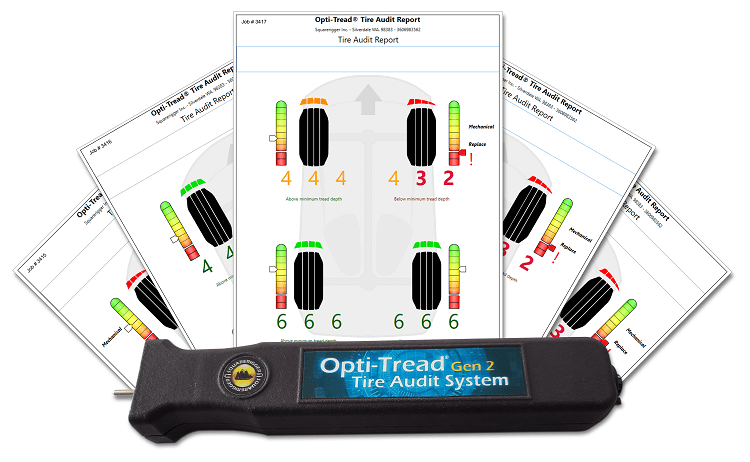 Fast inspections anywhere
---
The 'Opti-Tread® Tire Probe' is small enough to fit in your shirt pocket and takes precise, electronic tread depth readings. Completed inspections are uploaded directly into your VAST system eliminating unnecessary paper, wasted technician time and the need for a dedicated inspection space.
Advanced ergonomics
---
The Opti-Tread® probe is a lightweight precision device accurate to within 1/10 of a 32nd. Due to its advanced ergonomic design, it fits naturally and comfortably in the hand facilitates consistently accurate measurements. Unlike other devices that weigh pounds, the 'Opti-Tread® Tire Probe' is only about 3 ounces.
Detailed tire audit reports
---
Designed with the customer in mind, the Opti-Tread® Tire Audit Report is a highly visual method of engaging the customer with what it will take to keep their family safe on the road. The Opti-Tread® Tire Audit Report displays 3 tread depth measurements per tire, the full tread profile, irregular wear (if any) leading to an alignment, and recommendations for solving problems caused by mechanical issues.
A sophisticated point of sale and business management system designed for both single and multi-location tire dealers and auto service shops.
Learn more about VAST Retail
Would you like to join the KCS Alliance Partner Program?