Enterprise resource planning (ERP)
Our fully integrated trading and ERP system has been developed for distributors, wholesalers, suppliers, and retailers. Combining an array of modules, it helps you source effectively, stock efficiently, sell profitably, and service competitively.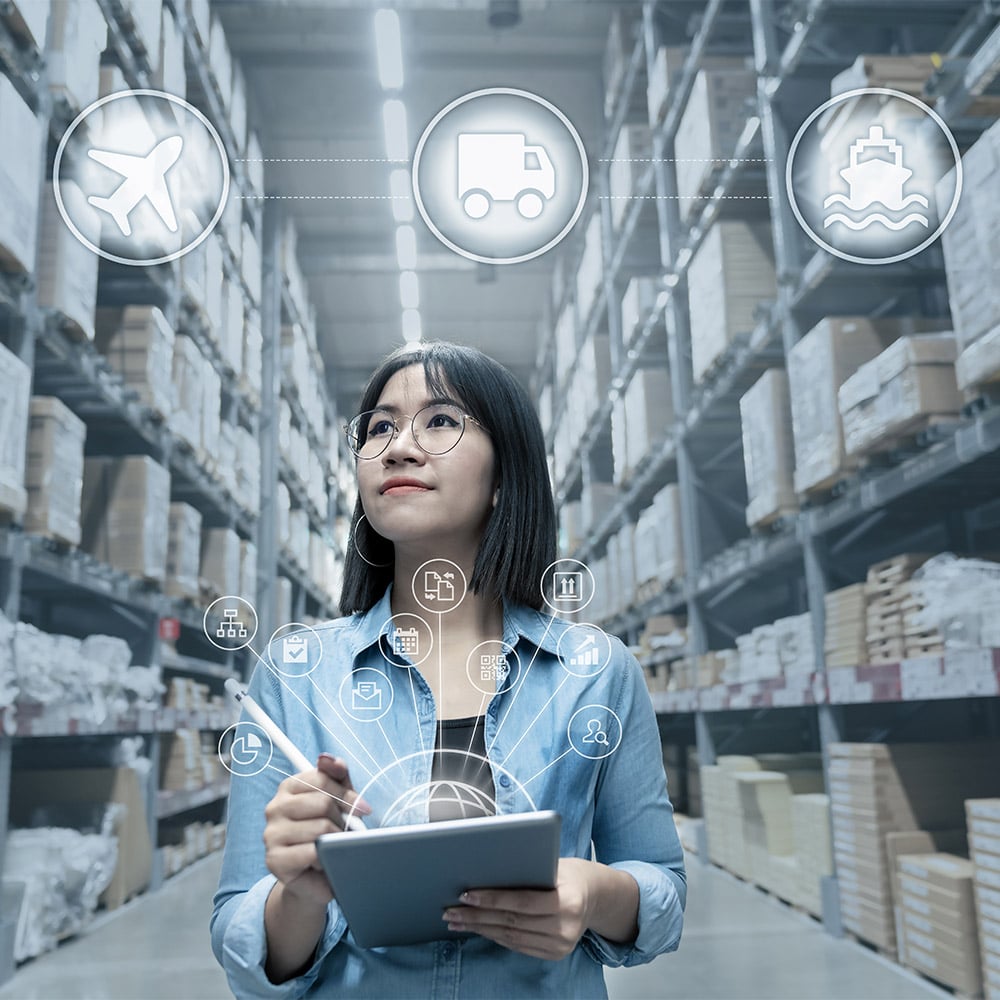 Integrated solutions to manage your business
---
Our ERP software is designed to help you get closer to your customers, build profits, and manage your margins from your sales team to your back office. Distributive trade experts have developed our integrated ERP system to improve the day-to-day performance of your team.
Innovative, flexible supply channels are essential if you are looking for a sustainable future in today's dynamic market. We can support you across your business through a wide selection of inclusive software modules. Each module integrates seamlessly into the trading and business management platform, enabling you to best control every aspect of finance, trading, logistics, and management.
KCS solutions integrate and manage a whole range of business processes and tasks, including:
Pricing and stock
management
Customer relationship
management (CRM)
Sales and purchase
order processing
Flexible ERP system.
Your business, your way.
---
You want to run your business your way, and our ERP software solutions can be configured to match your requirements. All the configuration is done for you, from choosing which modules to use to how the system and dashboards are set up. You can even select who can access specific functionality. In addition, you can choose what you see - and where - so your team is focused on the task at hand.
What is enterprise resource planning (ERP)?
---
According to Gartner, enterprise resource planning (ERP) is defined as the ability to deliver an integrated suite of business applications that share a standard process and data model, covering broad and deep operational end-to-end processes, such as those found in finance, HR, distribution, manufacturing, service, and supply chain.
Increase efficiency
Business processes like accounting, sales, production, and inventory are integrated into one platform to make it easier to collect and access data across the organization.
Reduces operational costs
When processes are streamlined, and key metrics are closely monitored, their impact is better managed.
Accurate forecasts
Real-time reporting tools and business intelligence allow users to dig into data to leverage insights.
Increases data security
Having a single data access point means that security can be tightly monitored.
We are here to provide you with the best software solution
Sourcing the right product at the right cost is key to achieving margins, sales, and service throughout your supply chain management system. Your business performance depends on product quality, price, differentiation, and availability.
Stocking to optimum levels, reducing handling costs, and economical transportation are essential to protecting your margins. But business management software helps you manage your inventory with clear visibility of demand and supply.
Selling through multiple sales channels brings you huge opportunities. Every business has the potential to sell more products, to more customers, through more routes to market.
It's vital to differentiate your business in a sector where you're competing for the same customers and markets. To do this, you don't only need quality products at the keenest prices but also innovative service and support.
A sophisticated and intuitive cloud-based ERP and business management solution that enables you to manage all aspects of your business and fully supports your digital strategy.
Industries:
Learn more about K8
No matter where you are, redesign your global rental processes with inspHire. Offering features that are multi-company, multi-currency, and multi-language, inspHire is an enterprise-level rental ERP for organizations that need a consolidated view of their global operations and performance.
Industries:
Learn more about inspHire Corporate
Solutions & resources
Looking for more information? These resources may interest you:
Want to learn what we can do for your business?