The mobile order capture solution for your business
In-store or remotely, K8 eSales is a mobile app designed to allow you to raise quotations and capture customer orders easily. Seamlessly integrated with K8, you can access up-to-the-minute inventory levels, view images beside product details, and get accurate customer prices.
Intuitive search capabilities help you add the right products for your customer quickly. You can also view any alternatives or associated products of interest. Simple to read with clear displays, K8 eSales assists your sales team either in-branch or at your customers' premises.
What are the benefits to your business?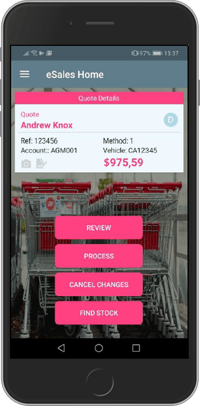 Easy-to-use mobile app
---
K8 eSales has a clear display and intuitive search functions, so you can easily navigate your inventory. In addition, you can show the customer product images and other details, improving their experience and helping them get the item they need.
Use with your customer in any location
---
Your staff can use the K8 eSales app to capture order details in the yard or branch. Or they may accompany the customer in-store, building a basket as they go. But on the road, your remote salesforce can capture and process customer demand on-site. Your customer may even receive an order acknowledgment before your salesperson has left their premises.
See alternative products to maximize sales
---
With access to alternative product details, your sales team can maximize the chances of helping your customer choose the right product.
Additionally, your sales team will be able to impress your customer with suggestions for associated products they might need to complete their jobs.
From finance to trading, K8 Trader is a modern and easy-to-use accounting solution for small and medium-sized businesses. Complete with a wide range of modules, it has all the power and functionality you need to expand into the future.
Learn more about K8 Trader
Want to learn what we can do for your business?